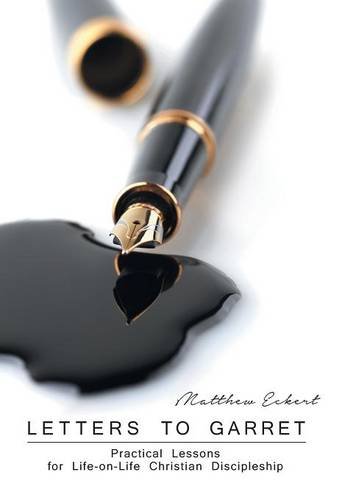 "Matthew Eckert has done all of us an enormous favor by producing this 'coach's guide' to growing reproducing disciples. All I can say is, "Matthew, where were you when I needed you"? I wish I would have had years ago this very practical tool that highlights the key issues accompanied by everyday wisdom that come up in the intentional process of disciple-making. I will personally add this guide to my small arsenal of necessary resources."
Greg Ogden Writer, Speaker, Teacher on Discipleship www.gregogden.com
"Matt understands that discipleship is wrapped in relationships that are willing 'to go the distance. Life on life for the long haul stuff.' So it is no wonder that the truths he packs into this short book have those qualities. No easy answers and no formulaic success principles. Just real life. This is a must read for anyone looking to move into a discipleship relationship. It is essential reading for anyone who thinks discipleship is simply a program."
Gary V Nelson President Tyndale University, College & Seminary and Author Borderland Churches
"Making Disciples is the most urgent task in the Body of Christ today. Matt Eckert has put together an excellent book that taps into his vast experience of making disciples as a university student (25 yrs ago), as a young banker in the work place, and as a pastor (these last 10 yrs).  Matt has always been engaged in discipling and helping others disciple as well … multiplication !!!  He has become a wise discipler and a "mentor of disciplers".
Many seek his counsel through his blog and will be thrilled to have Letters to Garret  as a ready companion to keep them going when "stumped" or want to add some creativity to their sessions. Several of us have urged Matt to write this book, I call it "Hope and Help for the Faithful Discipler." And, I love the format … insightful and a touch of humor. Matt's development of "Disciple Triads" is a powerful and simple innovation that has enabled hundreds of men to become disciples … try it!"
Paul Stanley Author best-selling book "Connecting" and Managing Director of The Leader Network
Now available from Navigators Canada or on Amazon.com and Amazon.ca.